Product details of Asus P2M Ultra-Light Portable LED Projector, USB, HDMI, Micro SD Card Slot
MAIN SPECIFICATIONS
MODEL P2M
TECHNOLOGY DLP
BRIGHTNESS 500 LUMENS
CONTRAST 3500:1
RESOLUTION WXGA (1280 x 800)
WEIGHT .522 kg
LAMP LIFE 30000 HOURS
WARRANTY 2 YEARS
Ultra-light Portable LED Projector 500 lumens-rated long-life LED light source for HD 1280 x 800 visuals Quick setup with instant on/off capability and auto keystone correction Short throw projection for 42–inch images from just 1 meter Built-in HDMI/MHL, mini VGA, USB port, microSDcard reader, earphone out, and speaker PC-Free Office Viewer and Multimedia Playback for videos, photos, music Compact and mobile design fits easily into any briefcase.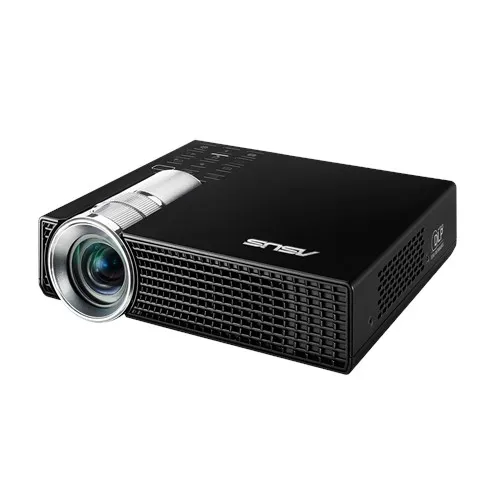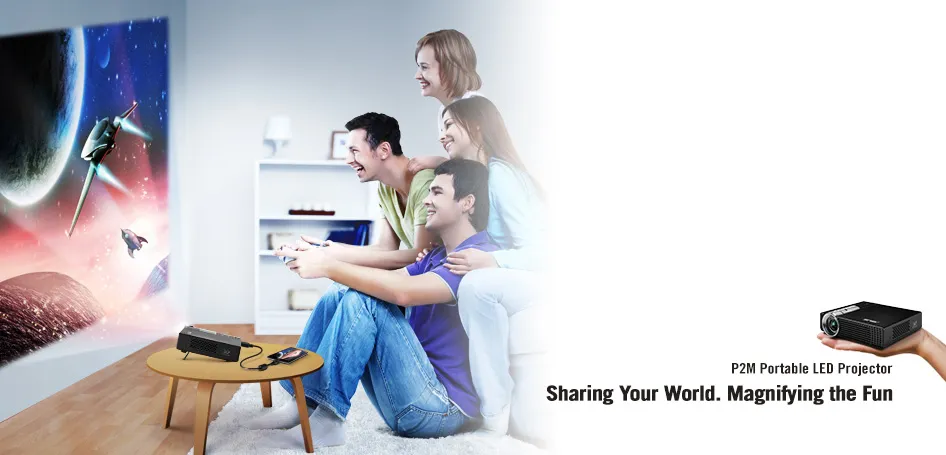 The Future of Projectors The days of the heavy and bulky projectors are over with the ASUS P2M projectors. Light and portable, these LED projectors are easy to set up, affordable yet durable, and can project clear, bright images.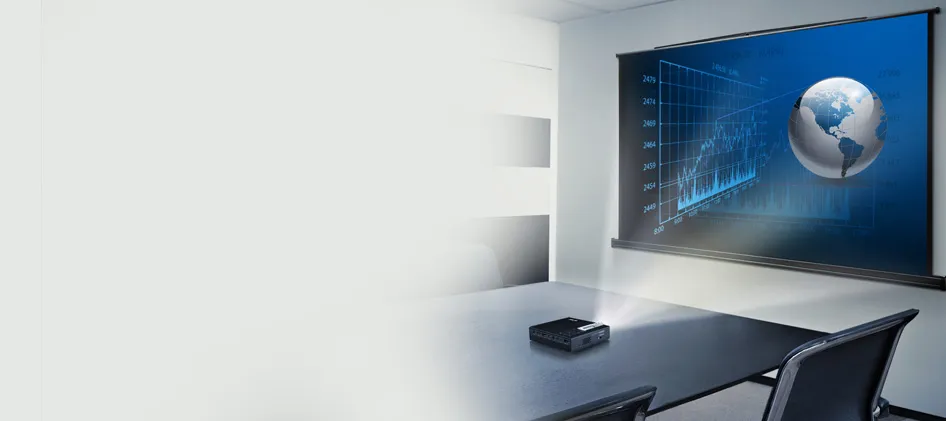 Quick, Convenient Setup 5 Seconds On and Instant Off P2M projectors have no warm-up times and are ready to go in as little as 5 seconds from powering up. They power off immediately either, without having to cool down.

Instant Height Adjustment The P2M features a 2-way height adjustable flip down stand and can be set up and ready in just seconds.
Auto Keystone Correction An Auto Keystone Correction feature ensures you get perfect projections by detecting the P2's orientation and automatically correcting distorted images from angled projections.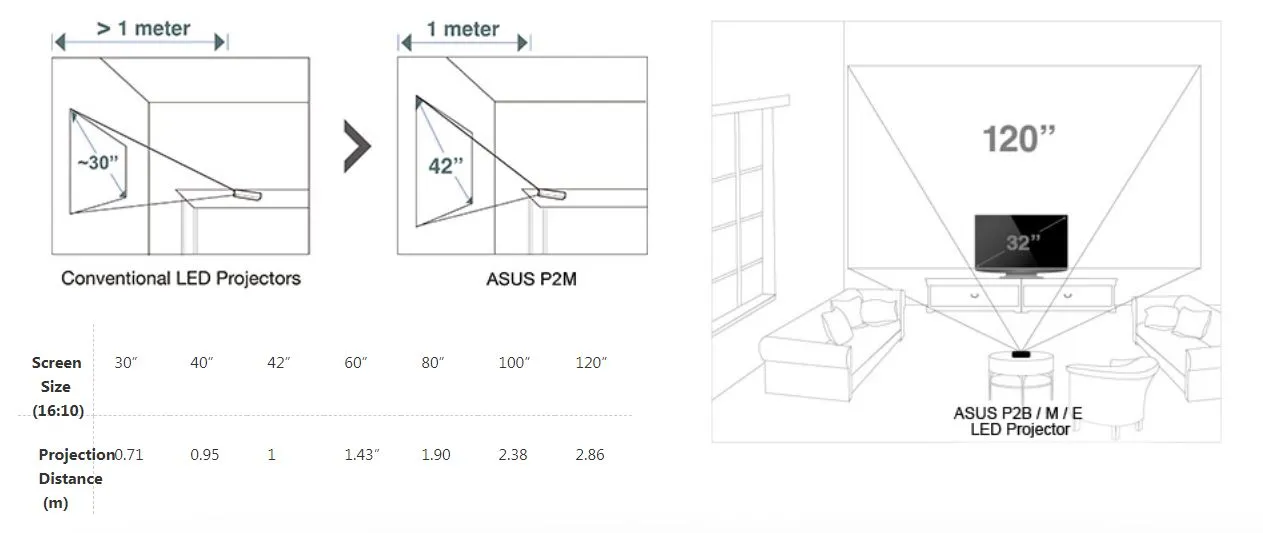 Short Throw Lens P2M projectors have a short throw ratio of 1.1:1 to give you 42" projections even with it placed only a meter away from the screen; and up to 120" projections from a distance of three meters. That's about four times the size of a 32" TV screen!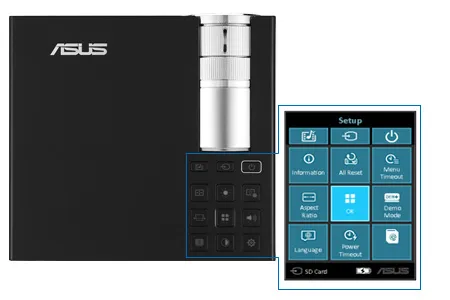 Dynamic Key Control The 12-button grid found on both the P2 control panel and remote is identical to the layout you see onscreen, giving you intuitive control.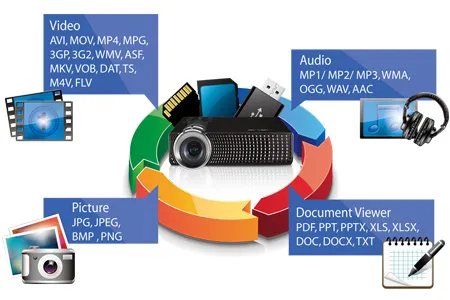 Made for Work and Play PC-free File Access The P2M projector lets you conduct presentations even without a PC. It gives you access to documents and multimedia files stored in your microSD card or USB storage device, as well as files saved in its 2GB of storage space.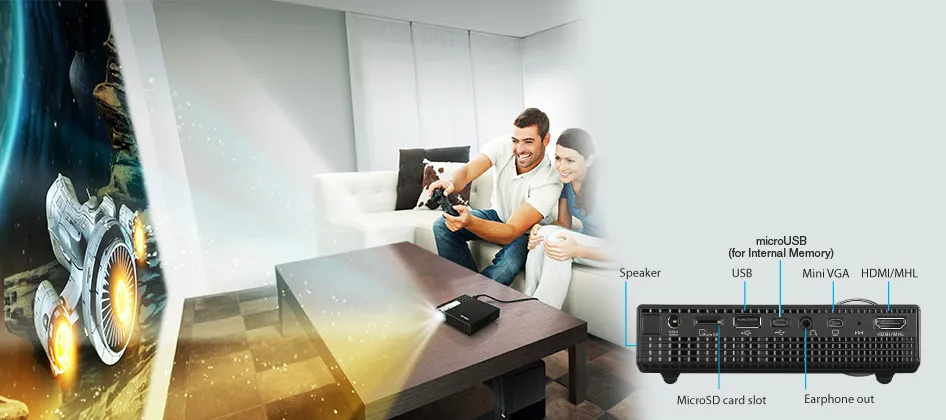 Rich Connectivity The P2M features HDMI/MHL and mini VGA ports to provide maximum compatibility with various devices. Users can easily connect the P2M to PCs, notebooks, mobile devices, and other multimedia sources. There is also a built-in microSD card reader and USB 2.0.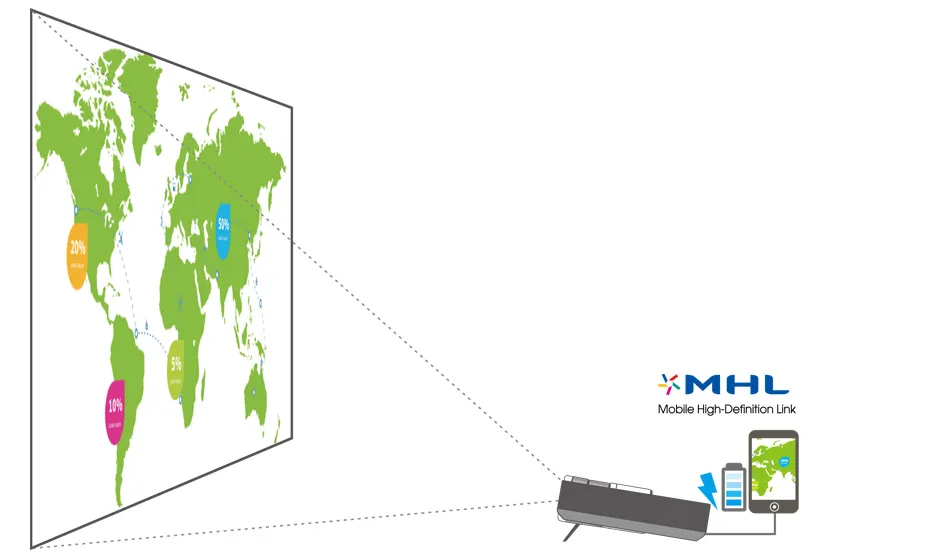 MHL Charging Feature The P2M charges MHL-enabled devices while simultaneously projecting their content at sizes of up to 120". Users need not worry about their mobile device running out of charge while in the middle of a presentation.
What's in the box:
1 x Carrying Bag 1 x Power Cord 1 x Power Adapter 1 x Quick Start Guide 1 x Remote Control 1 x VGA-to-mini VGA cable 1 x Warranty card